My Studiolo
March to September 2019 • Paris, France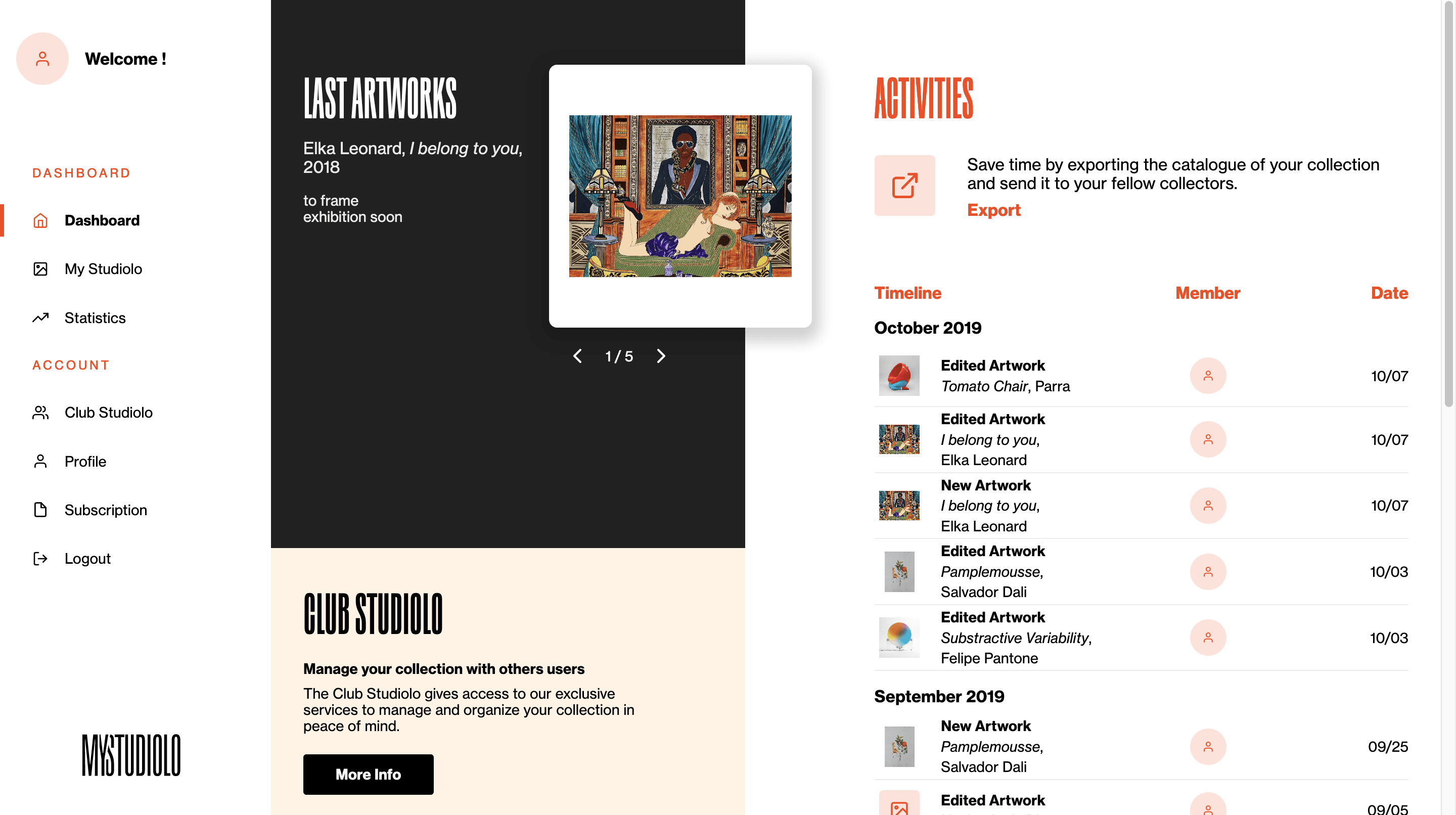 Context
MyStudiolo was a company launched by two art lovers in Paris who were sad to keep track of their beautiful art pieces in a tool as plain as Excel. They couldn't find the tool they dreamed of, so they built it themselves.
My Studiolo's promise was to create a digital version of a studiolo (from the Italian, meaning little studio): a small room, often lavishly decorated, dedicated to reading, studying, and writing.
With a team of 6 people, 2 designers, 3 developers, and 1 lead, we helped them do just that. We delivered a style guide, a design system, a web app, and a landing page for their new venture.
Contribution
I built the frontend of the web app and the landing page using the component library created by Simon, the other frontend developer on the project. The landing page was a one-pager built with Gatsby, while the web app was a standalone React app. I spent most of my time on the latter, the project's most complex and exciting part.
Main Challenge
This project's main challenge was to plan and coordinate everyone's work. Our team worked remotely, dealing with 3 time zones: Europe, Canada & Australia. We ran into a few cascading issues at the beginning, where someone was waiting on someone else's work to be able to start.
It was also our first time working together as a team. Most of us were solo freelancers before this project. It took me a few weeks to get into the groove of things, which was a valuable lesson. Clear communication and efficient collaboration are as important as the code you write, if not more.
Finally, I integrated the Stripe API for the first time, which opened my eyes to what a clean and well-documented API can bring to a project. Stripe made implementing a subscription feature in the app easy, even though I had never done it.
Results
We were pleased with the final results, and so was the client. My Studiolo launched in September 2019 during a release party they organised in Paris with people from the art world.
Stack
The technologies I worked with
TypeScript

/ Programming Language

Gatsby.js

/ Web Framework

React.js

/ UI Library

Rebass

/ Component Library

Redux

/ State Management

React Router

/ Routing

Lottie Web

/ Animation Library

Stripe SDK

/ Web API

Docker

/ Container Platform
Team
The fantastic people I worked with
Louis Roufinaud

/ Project Management

Gautier Roquancourt

/ UI Design

Chloé Barria

/ Branding

Steven Bowen

/ Backend

Simon Halimonov

/ Frontend
---